Interview Svalner Tax & Transaction
Interview with Patrik Giléus, CFO, & Eva Dahl, COO, Svalner Tax & Transaction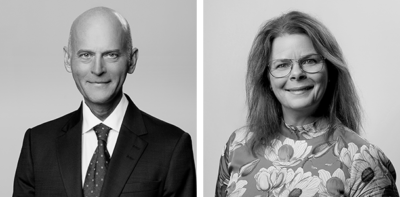 Founded in 2005, Svalner is Sweden's leading group of independent tax and financial transaction specialists. The firm had to replace its old practice management system and Legalsense quickly proved to be the best option on the market.
Replace or upgrade?

What do you do when the most critical piece of business software is getting too old to keep up with modern working methods? You start looking around and use your network to determine what is currently on the market. That's precisely how Svalner was introduced to Legalsense: positive recommendations by other firms, confirmed with own experiences by staff who already worked with Legalsense at other firms. Svalner's COO Eva Dahl explains: "The first impressions were excellent, that explains why we are currently working with Legalsense! We also looked at two other systems, but that was a completely different experience".

Severe limitations with time recording options prevented an upgrade scenario, which was also in favour of Legalsense that offers many different ways to record time, including matter-specific timers and an excellent working mobile app. The overall user experience and the extensive options available for generating reports proved that Legalsense was ahead of competing systems.

Travelling restrictions

Due to the many restrictions imposed by the global pandemic, a remote implementation was the only option. Design sessions, system testing and data migration were completed online and on time! Patrick Giléus – Svalner's CFO – added: "Despite the difficult corona situation that complicated the implementation, the Legalsense team was very flexible and responsive, which resulted in a smooth go-live".

Because the Legalsense system is so easy to work with, extensive training sessions were not necessary. In fact, 45-minute demo sessions proved to be sufficient to get most staff going, indicating Legalsense functionality is designed with ease of use in mind.

Proof of the pudding is in the eating, they say; that's why the first billing cycle after go-live is always an important milestone. Eva Dahl: "Our first round of invoicing after go-live went better than expected. Although a new system is always a bit complicated initially, it is straightforward to learn, and the Legalsense project team was constructive. When necessary, they responded and assisted very rapidly".

Future-proof

Svalner is ready for the future with Legalsense at the core of its business operations. Integrations with other systems are operational, and the firm will soon start with e-invoicing. Patrick Giléus concluded: "Legalsense exceeded our expectations. At the start of the project, we didn't expect the project to go so smoothly, and the software would be so easy to work with".